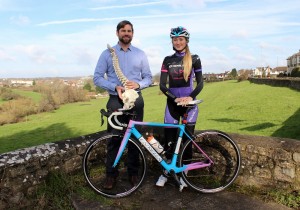 Local chiropractor supports cyclist on the road to success
A Paulton chiropractor has spent some of his free time over the past year to help an up and coming BANES cyclist perform to her best ability and avoid any unnecessary injuries.
Tony Honeker, who works at Elm Hayes Surgery in the village, has been treating Keynsham cyclist Beth Taylor, 18, for almost a year now and the Podium Ambition cyclist couldn't be more pleased about the effect that chiropractic has had on her performance and health.
"Chiropractic has helped me massively as I used to suffer with pain in my hips and knees but after having the treatments I can do more training and not have any trouble from niggly pains," she explains. "It has also taught me which stretches help certain muscles so that I can stretch properly afterwards."
Beth, who is dreaming of racing for Britain one day at events such as The Commonwealth Games and The Olympics, started cycling when she was about eight years old but properly got into the sport after she did a track session at Newport velodrome in Wales aged 11.
Earlier this year she was named as one of Podium Ambition's Boot Out Breast Cancer Cycling Club's (BOBC CC) six scholarship riders and she couldn't be more excited about this opportunity. She says, "I joined to work in the friendly environment that has been created and have the benefit of riding with top class riders I see as role models, the pathway is a great idea to bring more riders through to professional level at a pace that is right for the individual."
Before going to see Tony, she had only vaguely heard of chiropractic but wasn't aware of the benefits and positive impact it could have on an athlete. She started to research it and found lots of positive feedback from fellow athletes.
"Even the first session helped massively as Tony and I spoke about the typical trigger points of pains in cyclists and we found I had a weakness in one of my legs which has now been sorted out and my strength feels like it has greatly improved. We also spoke about sports nutrition and how I could improve my diet and the effects of these changes have been surprisingly big."
"Many people still think that chiropractic is just about back pain. Although it is true that we offer a very effective and cost-efficient way of addressing back pain and other related problems, chiropractic can offer so much more," explains Tony. He continues, "We thoroughly assess the integrity and function of the entire body, and work out ways to optimise the performance of the neuromusculoskeletal system to enable the amateur or elite athlete to perform at their best and to avoid unnecessary injuries. It is certainly an exciting time to be a chiropractor as there is a lot of new research being conducted which is highlighting the positive effects that properly administered chiropractic adjustments / manipulation can have on the neuromuscular system, improving the connections between the nervous system and muscular function thus improving the performance of the body. Research has shown improvements in joint position sense and increased muscle strength following chiropractic treatments, which can really help to prevent injury. This is why so many elite athletes now routinely visit chiropractors."
See the Somerset Guardian article here.